Layout
Keep critical elements at least 3/8" from top and 1/4" from bottom & sides
1/8" Bleed
See templates
Common Art layouts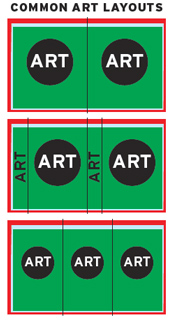 Digital Images
CMYK .psd, .tif, .eps, or .ai file formats
300ppi/dpi resolution, sized to 100%
Fonts
File Formats
Current or recent Mac or PC versions of the following:
Photoshop®
InDesign®
Illustrator®
High Res PDF
Word, PowerPoint, and Excel files are not acceptable.
Media
Upload files 3-80MB
Email files less than 3MB to your Sales Counselor
CD
DVD
Color Target / Sample
Include a complete, full-sized hard copy of the composite art submitted. It may be color or black & white, but must be printed from the final file(s) you provide. Color targets should be printed using calibrated devices.
Calibrated color target
Black & White prints for position only
Colors - Process & PMS
All PMS/Spot colors will be converted to 4-Color Process. When referencing a PMS color in a process color print, refer to a Pantone® COLOR BRIDGE® coated guide to see how the color translates when converted to CMYK. Most colors change when converted to CMYK.
Design Tips
Design two or three vertical viewing sections
Include all layout, font, and image files
Convert fonts to outlines/curves
Supply a printed copy of the final layout and color samples or color targets
Call us for answers to your design questions